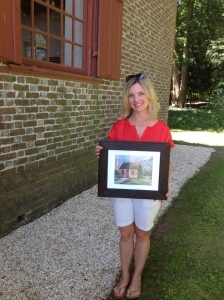 New Print of Historic St. Martins Church
The Board of Directors at Historic St. Martins Foundation is pleased to introduce Artist Anna Hobbs. Anna presented this beautiful oil painting of Historic St. Martins to the Board President last week. Anna has produced 100 archival quality prints to sell and is donating a percentage of the proceeds to the Foundation. Cindy Black Trimper introduced Anna to us last week. The connection is marvelous! Cindy's father-in-law, Granville Trimper was on the founding Board of Directors at St.Martin's and an early supporter of this project. Cindy & Anna are pictured next to the donor board where Granville Trimper's name is featured among the other early donors. The prints will be available at the Peach Festival on Saturday, as well as The Paul Cullen Concert on Sunday.
The prints are signed and numbered and sell for $50.00 each. For more information contact us via e-mail info@historicstmartinschurch.org or call 410-430-2142.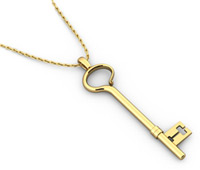 Key to St. Martin's
In addition, we are very excited to offer a limited edition of our Key to St. Martin's. This Key Pendant is created in sterling silver.  The Key is a miniature replica of the Key to The Church priced at $225.00.  The pendant was created by award winning Master Goldsmith Stephen Clarke.  Mr. Clarke was recently recognized by The Smithsonian for his amazing work in resetting the Hope Diamond.